ULMAN CANCER FUND for Young Adults in Memory of Doug Parker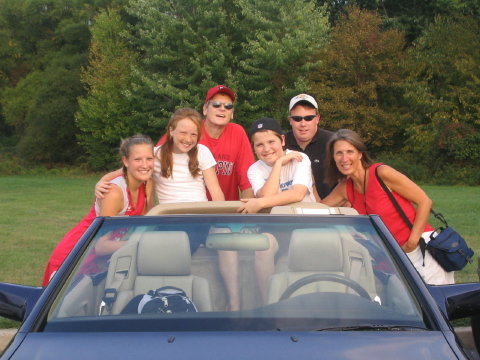 Southern Living raffle winners ($125 free products each)! Thanks for participating!
Stephanie Reilly
Valerie Deitrick
Mary Beth Crawford
Becky Straw
Thanks to Mary Ellen Willson, SLAH Sr. Director, for her efforts and donation.
Upcoming Fundraisers and Links
Amount raised
Donate directly: Ulman Cancer Fund for Young Adults
Back to School Haircuts fundraiser: August 2008 RAISED: $366.80 !
SEPT. 21 - Christmas in September with Southern Living RAISED $560!
Used book collection - RAISED $26 so far

Doug Parker was a beloved member of the Western Howard County community for many years. His first priority was always his family, wife Jean and four children, Doug, Lauriann, Alyssa, and Charlie. At 6-4 and 310 pounds, "Big Doug" was an apropos nickname. Big Doug's world revolved around his children's school activities and their high school and recreation sports games. "He supported me and my sister and two brothers. He never missed a game," said Alyssa. "He loved all sports. Whatever sport we were playing, that's the one he loved the most that day!" He coached at least 14 local sports teams in lacrosse and basketball, and had a 15-passenger van, dubbed "Kid Taxi," which he used to transport his children and their friends to sporting events, parties, and other destinations.
Doug was also devoted to his community and its children. During the 2002 sniper attacks, he was unable to reach two of his children, students at Lisbon Elementary School at the time, due to busy phone lines at the school. He asked the school if he could create something to help keep the parents informed. The end result was the creation of eSchool Systems, currently used in Howard, Carroll, Harford, Queen Anne and Caroline counties as well as a few schools in Montgomery and Baltimore counties to broadcast email messages between the schools and parents.
After being diagnosed with pancreatic cancer, Doug tackled the problem with the same optimism that he approached everything in his life. He fought hard to get well, never complaining and always keeping an upbeat attitude. Sadly, his personal fight came to an end on May 12, 2008 at age 49. But he can continue to fight cancer with your help. A gift to the "Big Doug" Parker Memorial Cancer Fund will be donated in Doug's memory to support the Ulman Cancer Fund for Young Adults.
The "Big Doug" Parker Memorial Cancer Fund has been created by Lauriann Parker and Stephen Castro to raise money for the Ulman Cancer Fund for Young Adults in memory of Lauriann's dad. Please check back often to see how much we've raised and to look for upcoming opportunities to help fight cancer.

Email: BigDougFund@yahoo.com